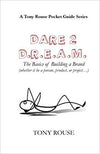 Dare 2 D.R.E.A.M.
The Basics of Building a Brand (whether it be a person, product or project…)
This Tony Rouse Pocket Guide Series takes a witty and humorous look at the very direct approach Rouse uses while working with some of the best brands in the world. Having served as a Sr. Product Manager with global responsibilities in 6 countries, he highlights the 10-steps behind his 'Dare 2 D.R.E.A.M.' system and methodologies that have assisted Grammy Award-Winners and companies like Coca-Cola, Neiman Marcus, and SmartWater. Best described as 'Dr. Seuss meets Business', the illustrations and poignant conversation reveal a much deeper analysis than when first imagined.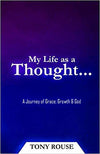 My Life as a Thought
A Journey of Grace, Growth & God
This reflective gem on life takes a look at a 10-year time span where one reads in reverse chronological order all of the documented moments that have shaped Tony Rouse and how he relates to the world. We start in February of 2016 and end with the beginning of Rouse being re-awakened after a 27-hour coma. The most dynamic aspect of this entire tale is that it is told exactly as a thought, as it happened and as it was communicated with the world. With over 350 entries, this book is a collective of encouragement, hope, and love.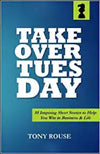 Takeover Tuesday
55 Inspiring Short Stories to Help You Win in Business & Life
What started off as a text message amongst a group of guys… grew into an internationally shared platform of motivation and success for all. The stories found within this book are tales of tragedy and triumph and insight and ingenuity. We reflect on current events and look to the past for keys to the future. Topics discussed include The Super Bowl, Rudolph the Red-Nosed Reindeer, and Pinocchio. To fully understand the relevance of all of these characters to the powerful movement contained therein… You just have to read this one. Take. Over.